Documentation is one of the most important aspects of any product catering to developers. As an SDK, we understand the importance of excellent documentation and have been constantly working towards enhancing it. We are proudly displayed on the Docusaurus Showcase and even marked as one of the favorites.
At Dyte, we're always looking for ways to improve, and with LLMs unlocking extensive possibilities in natural language processing, we're excited to launch DocsAI - a chatbot that lets you interact with our docs as you would with our team!
Integrated within our docs search bar, you can ask the chatbot generic questions about Dyte and its various integrations, ask specific questions for your use case or even get code samples!
Let's dive into what else you can do with DocsAI.
What can you expect?
Summarisation
DocsAI is designed to make your life easier by providing quick and easy answers to your questions. It scours Dyte's extensive documentation, which is constantly updated and reviewed by our team of experts, to extract the most essential information relevant to your query. By doing this, our AI can provide you with a comprehensive summary of the information you need.
This means you don't have to spend hours sifting through pages of documentation or trying to decipher complex technical jargon. Instead, you can rely on our AI to provide clear and concise answers you can easily understand.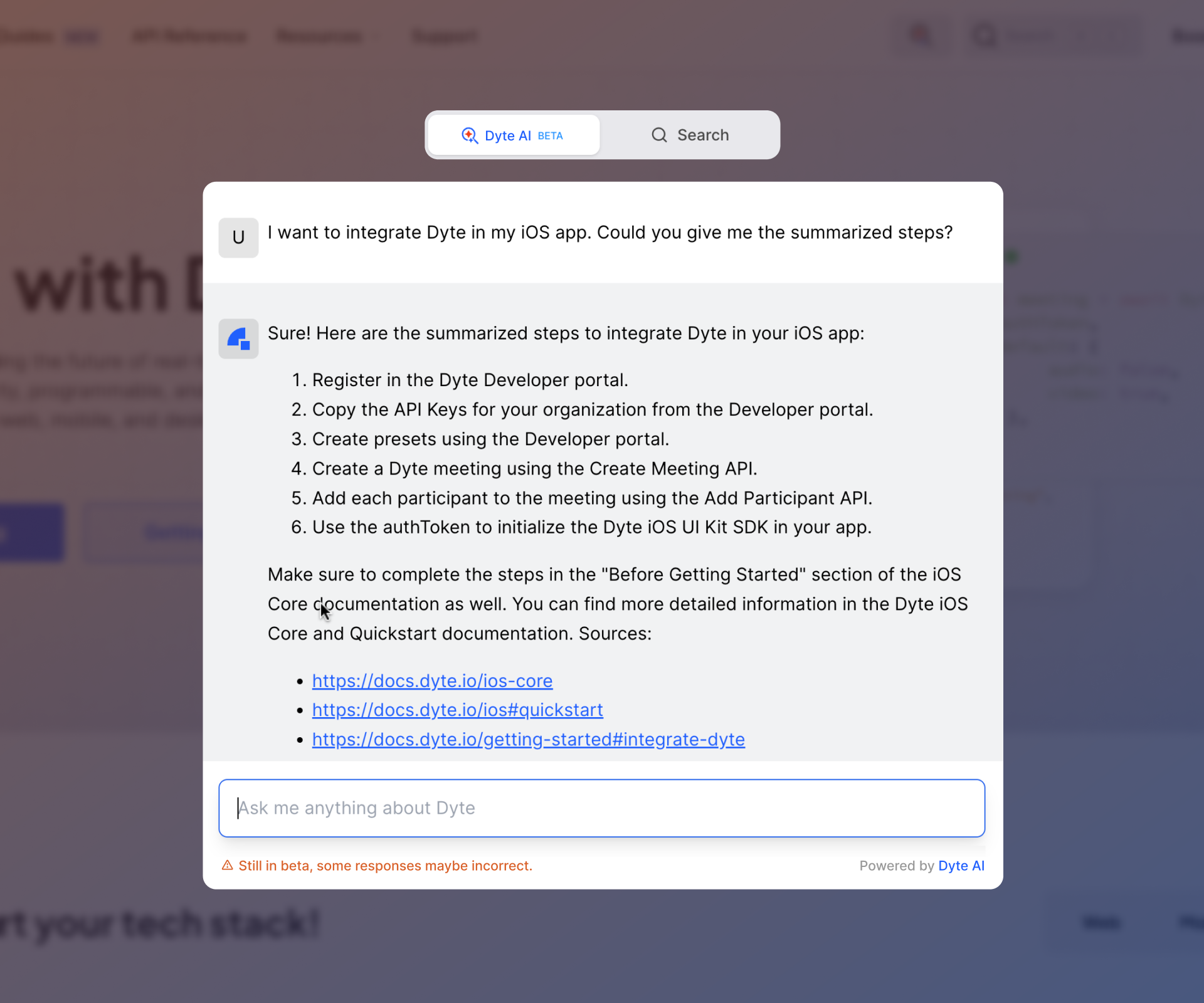 Answering your queries
Our documentation AI is well-equipped to help you find the answer you want. It is specifically designed to parse vast amounts of data and identify the most relevant information for your query. This means you can be confident that you'll find the information you need quickly and efficiently.
In addition to providing you with the most relevant links, it also provides a simplified summary of the answer to your query. We understand some topics can be overwhelming, so our AI chatbot is designed to translate complex concepts into a simple, easy-to-understand language.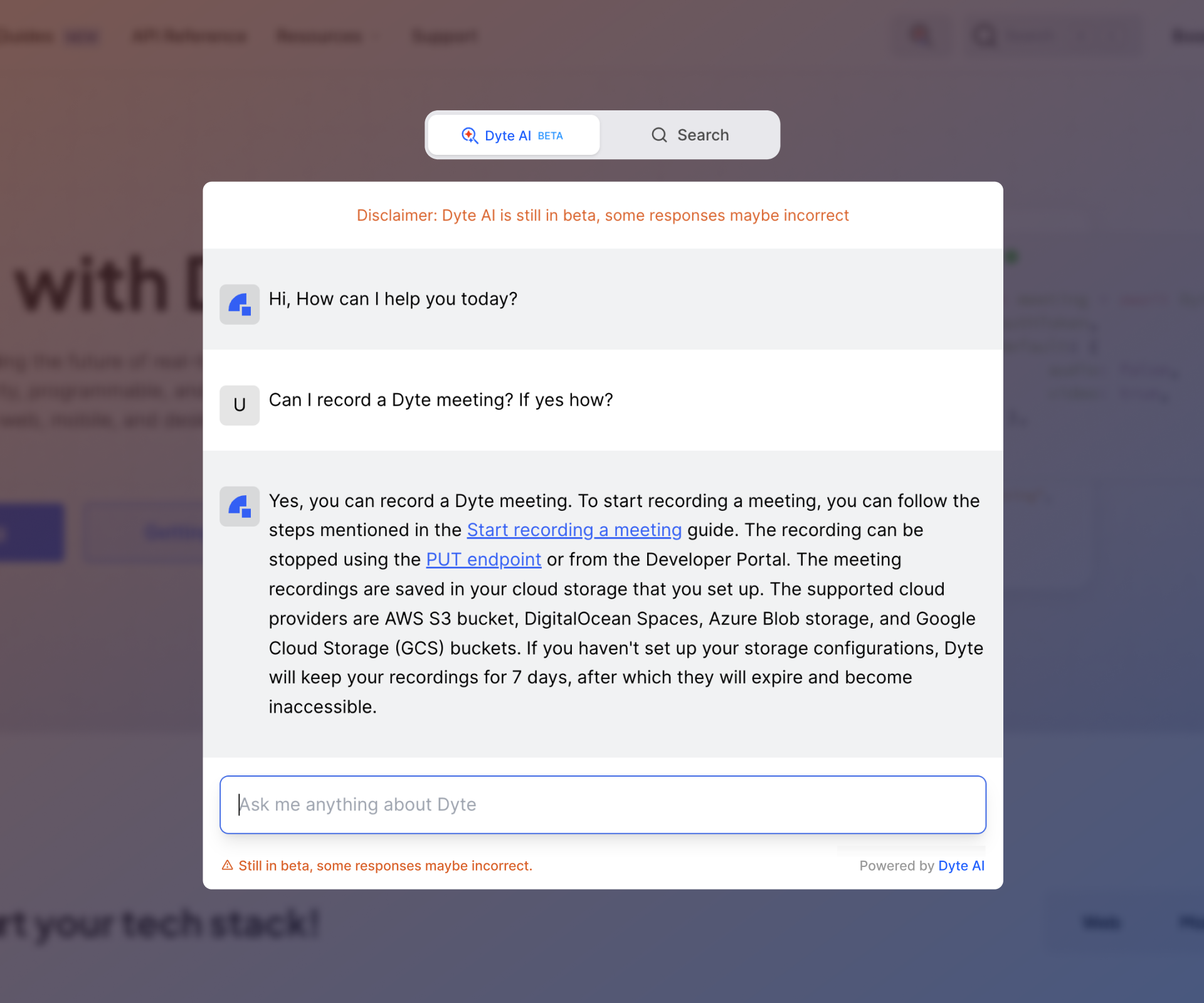 Code snippets for your use-case
Our DocsAI is a highly versatile tool that can serve multiple purposes based on your specific needs. While it is primarily designed to summarise and infer information, it can also provide custom code snippets to help you integrate Dyte seamlessly into your platform.
With this feature, you can save time and effort in getting everything up and running and focus on delivering the best possible experience to your users. Let it know your preferred framework, and it'll do the rest.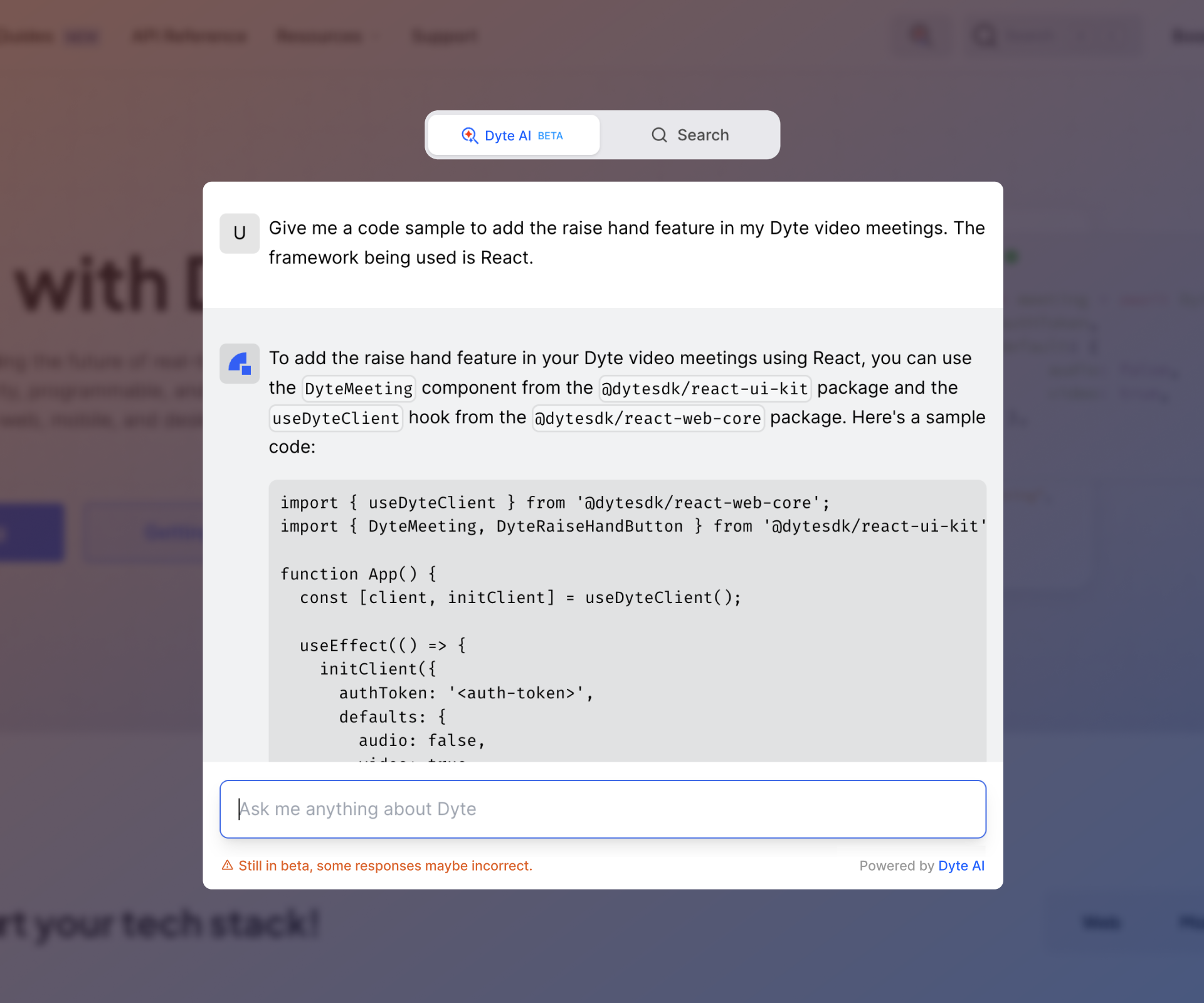 Translation
No matter the language, our AI is here to assist you. Just ask DocsAI to answer in a particular language, and you'll have your queries addressed in your preferred language. With this, we aim to make it accessible for developers speaking different languages to navigate our docs easily.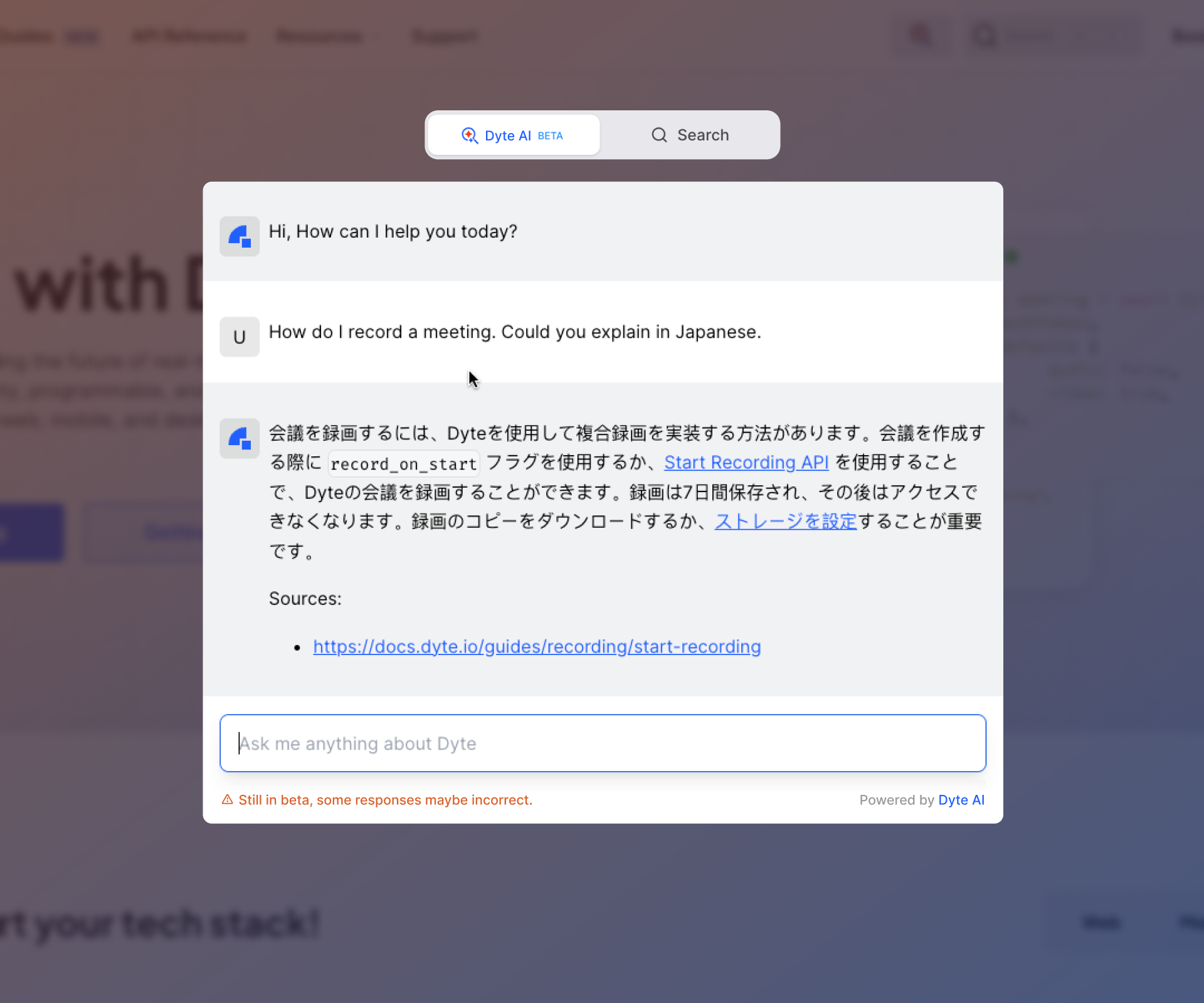 Conclusion
We are committed to making your experience with Dyte as smooth and effortless as possible, and we believe our DocsAI is an essential step in achieving this goal. Whether you're a beginner or an expert, our documentation AI is the perfect tool to help you find the answers you need. So the next time you have a question, don't hesitate to ask our DocsAI!
DocsAI is still in beta, and as we keep improving it, we would love to receive your valuable feedback at https://dyte.io/contact.