Hackathons are an excellent proving ground for new and innovative ideas. They stimulate the flow of creative juices in the participants, foster problem-solving and encourage risk-taking in a comfortable environment. They are also a great way to reinvigorate an organization's innovation culture and unlock its hidden potential. Dyte recently sponsored Devspace, a hackathon organized by the Computer Society of India — Vellore Chapter.
About Devspace
CSI-VIT student branch organized the third edition of Devspace on an international level, positioned to be the biggest student-organized Developer's Event in India with a total of 1414 participants, from the 19th to 21st of March, 2021. Having been an exceptional success over the years, it is an exclusive event that provides participants with a different perspective on the new and emerging Tech World. It also gives the participants a platform to showcase themselves to prominent members of the industry, as well as interact with them.
Devspace has 3 main features:
Keynotes
Workshops
Hackathon
About Dyte
Dyte is a video-conferencing platform that features interactive plugins for various applications. Since everything has shifted online- and the work from home culture is being incorporated everywhere- Dyte aims to provide a way, through its SDKs, to integrate branded, configurable and programmable video calling service into existing apps/websites with minimal efforts. Plugins can be used to easily collaborate amongst participants of the meeting, without having to leave the meeting window. Developing plugins for Dyte and publishing them in the marketplace too, is made hassle-free by using Dyte's plugin SDK. Existing plugins include the Chess plugin and the YouTube plugin for entertainment purposes, and whiteboard, miro and google apps plugins for better team collaboration. Dyte is currently being used by Ed-Tech platforms for holding classes on their websites, telemedicine companies to connect patients with doctors, chat apps to connect sales representatives with customer support, etc.
Role of Dyte in Devspace:
Palash Golecha, a co-founder of Dyte, acted as a judge and mentor at Devspace. He helped with clearing technical doubts of participants and judged their project submissions. Dyte had given problem statements for participants to work on in the industrial track and received a great number of submissions. Participants used the plugin SDK to build new plugins which can be used either for fun or useful collaboration among team members. These included fun games to play with friends in a meeting along with tools that are highly useful and much more effective than simply sharing a screen while working with the team. Dyte encouraged the participants to make multiplayer games, remote work apps, e-learning apps, or any other application that took advantage of real-time collaboration.
Winners
There were many submissions for Dyte's problem statement in the industrial track. Judging was rather difficult since all the projects were of such outstanding quality. There were many ingenious and unconventional project ideas.
The best two projects were selected as winners:
Wild Sprint by team Ambur Biryani: A web application that streams video feed from wildlife sanctuaries/national parks while nature/wildlife enthusiasts can watch, subscribe and donate to them.
Medicist by team Medicist: A cross-platform application carefully designed keeping in mind the current market requests and demands to get medical assistance and equipment which are not available easily.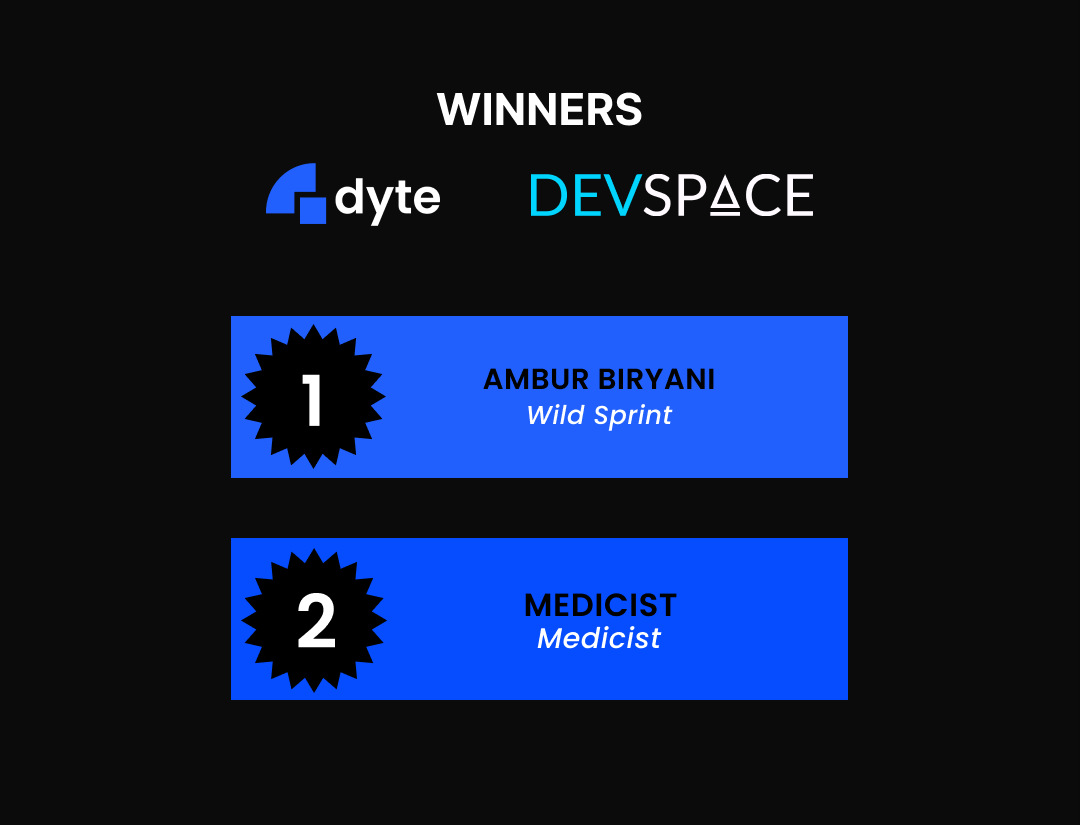 Devspace, being an online hackathon, was a new and challenging experience for everyone. There was an overwhelming amount of positive feedback from the participants and co-ordinators of Devspace.
Dyte is looking forward to developers who are interested in developing on dyte, start developing here. Our plugin SDK is in beta and will release soon. Signup for early access here.
Visit dyte.in and tryout our video calling service. You can get started in less than 10 lines of code. Thank you for reading.