React combined with two days of sun, sea, sand, and seafood in Goa, India's little paradise. It feels fantastic to be a part of React India.
Dyte is honored to be the event's Silver sponsor. This hybrid edition of the conference provided Dyte with the opportunity to serve as the event's official live streaming partner, adding another feather to Dyte's cap. Dyte served as the backbone for hosting and streaming all of those remote sessions.

As a young startup, we are ecstatic about this opportunity. We take this moment to thank the React India 2022 committee for giving us this chance and for trusting in us.

Eventful React 2022 for Dyte

It was a three-day event with workshops and talks about React, React Native, Redux, GraphQL, and more!

Palash from Dyte gave a remote presentation titled "Build 2 real-time communication apps in 20 minutes." Don't be disappointed if you missed it. We have it hosted on YouTube :) If Dyte's technology excites you enough, please watch it here.

Building real-time video and voice apps can be really fun and exciting.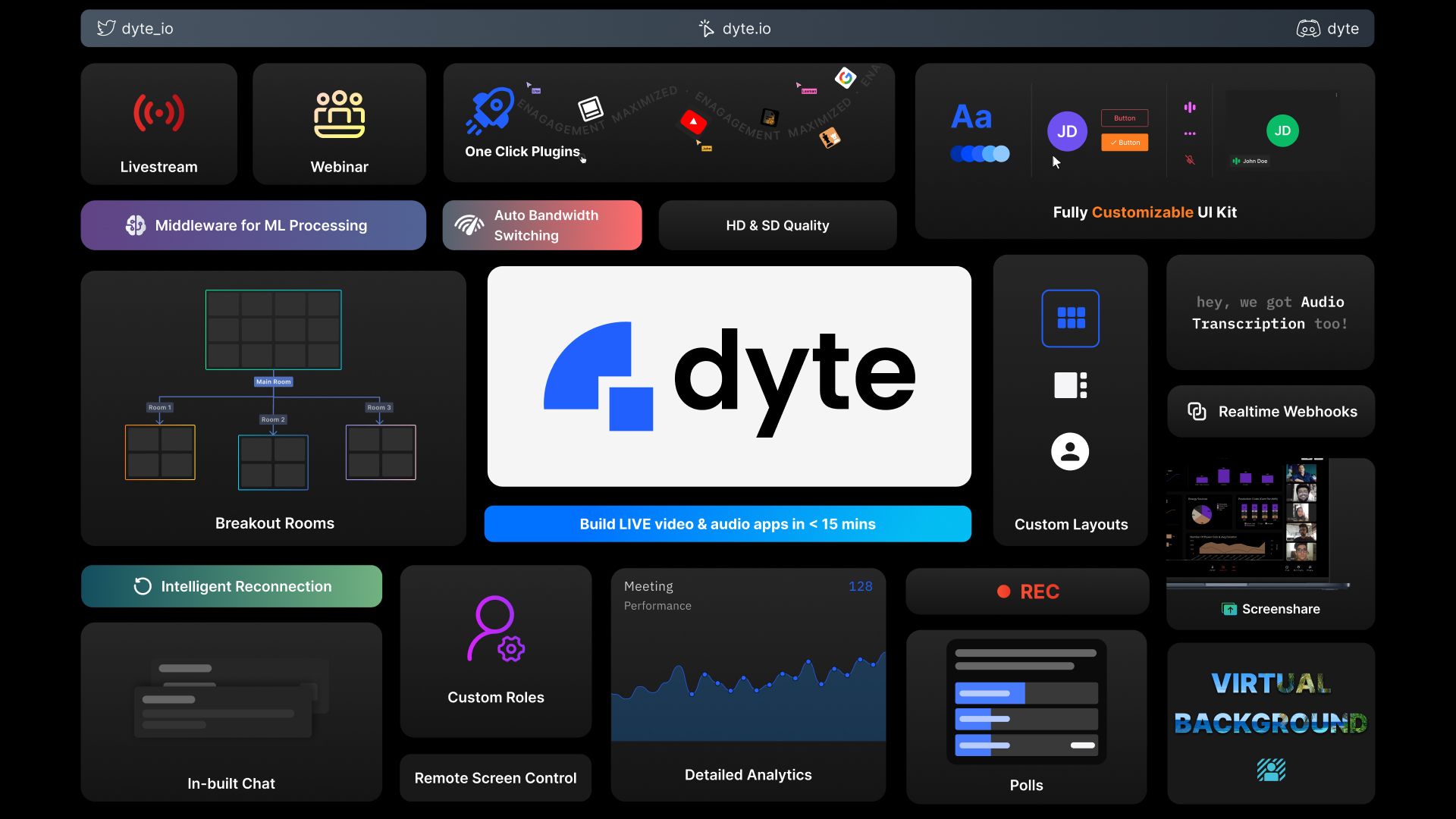 Being a Silver sponsor, we also showcased our technology at the conference. We had set up our booth there. Meeting, interacting, networking, and learning with top front-end and full-stack developers from around the world, time just flew by!

Some interesting moments.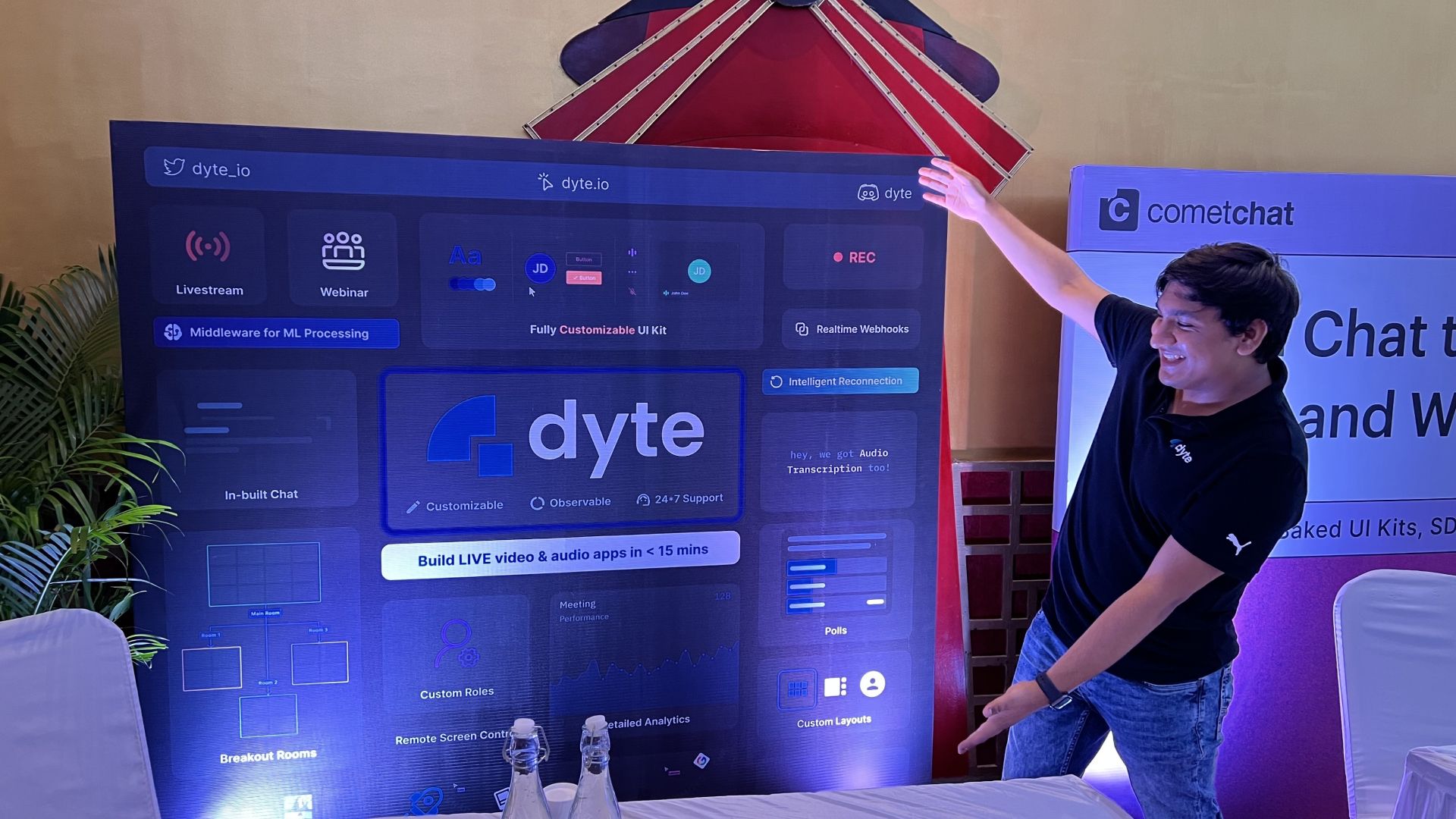 We also set up a couple of super interesting challenges to add to the attendees' excitement.

Flip the Bottle Challenge
Most of you would have heard of Ginnie, who performs magic and grants your wishes. There were several similar moments at the Dyte booth in the conference:) You would flip a Bisleri bottle and receive a lovely Dyte bottle in exchange. That was a lot of fun. Talking about technology without a fun element can become boring ;)

A glimpse of some fun moments!
And some serious stuff with the chance to win incredible prizes.

The challenge was to use our React SDK to build an app. Read on to learn more about the challenge.
Moments to be Cherished and Grateful…

Dyte partnered with the React India team to integrate Dyte SDK into React India website and deliver the streams.
This year's React India 2022 chapter was hosted by React India team of community volunteers who are passionate about new technologies and enjoy sharing their knowledge through community-driven initiatives. Here's what Sahil from React India team has to say about Dyte's partnership with React.

We had some people with backgrounds working with video conferencing solutions and knew what kind of pain it is. When this came up at React India, we knew this was not going to be easy for us to develop and maintain. We started looking at managed solutions and found Dyte.
We were able to spin up a quick POC for the live workshop.
We regularly spoke with the Dyte team, and their support was fantastic! Also, their turnaround time to our questions/problems was quite fast. It took us only five days to go to production with our live workshops with Dyte! It was as easy as that.
On top of that, we also had our own custom checks to ensure that everything would run smoothly for our attendees and speakers. We just dropped in the Dyte SDKs, wrote an API for the auth tokens, and that's it! We were ready with the complete setup, including the video recording!
Their drop-in UI is simply amazing to use. Also, our speakers felt natural using it. They didn't require any special instructions to present their workshops.
Although we ran our own internal tests, we were still worried that things might go wrong on the main day. But talking to their team gave us the confidence that things would work as we expected them to. And on the main day, their words stood up! We were moderating each of the workshops to ensure everything was running well, and it did. Their team was also actively monitoring everything and was available for support. We experienced no issues with their platform, which is truly exceptional for a video conferencing service. Dyte took care of everything, from Developer-Experience to User-Experience.
A big thanks and congrats to the team for this success!

User feedback, acceptance, and recognition are the best testament to the quality of the product you build. And Dyte hit the jackpot yet again! Here's what Siddharth Dayalwal and Chakit Arora from Storyblok had to say about Dyte after using it to live-stream their talk 'Reacting to Headless with Storyblok' at the conference.

We are proud to see how Dyte empowered React India at this scale and happy to see the event's success. We're looking forward to such partnerships. If you're hosting events and need webinars and live streaming, you know where to go!
On that note, once again, thank you for all your support, encouragement, kind words, and testimonials. We look forward to many more such partnerships.

Cheers, and keep using Dyte until then!