Listening to your customers and acting on their feedback is the most effective way to grow a business. We at Dyte appreciate iMocha taking the time to share their experience and journey with Dyte.
"A customer's testimonial about their relationships with you is worth ten times what you write or say about yourself."
In his own words, Sujit Co-Founder and CTO at iMocha, describes his experience with Dyte thus far. We're super excited to have iMocha on board with us.
A Quick Overview of iMocha
iMocha (formerly Interview Mocha) is the world's largest skills assessment API platform and provides skills intelligence for organizations to build winning teams.
The platform empowers organizations to thoroughly assess employees as well as candidates, to identify and benchmark their skills and proficiency according to industry/company standards.
iMocha's product, platform, and custom services are fit for IT/ITeS, Banking, Financial Services, Engineering, Insurance, Telecom, and several other industries that have skills assessment needs for coding, applications, soft skills, communication skills as well as futuristic digital skills.
There are 3 use cases wherein iMocha helps companies viz:
Recruitment: Lateral, University, Technical, Functional
Learning & Development: Calculating ROI for Learning Programs, Digital Transformation, Upskilling, Reskilling
API, Integrations & Platform: Job Boards, eLearning platforms, Certifications
iMocha 💌 Dyte
As a skills assessment platform enabling recruitment and learning teams, we were looking for a live video provider for our interview platform. Most of the products we dabbled into were fairly complex to implement and required considerable effort to maintain. We started exploring Dyte's new UI Kits and Core SDKs in the beginning of May 2022. The team at Dyte shared a few resources with us for the same, and we were quickly able to integrate Dyte's UI Kit SDK.
We currently use Dyte for two use cases, the first being our interview product: group video calls with interviewers and an interviewee. Having used Twilio before, Dyte proved to be exceptional in terms of its ease of integration as well as the overall development experience. We could stop worrying about video completely as Dyte handled all the edge cases itself and came with a plethora of customizations along with in-app recording. We also wanted to create a plugin, so towards the end of May we started exploring Dyte's Plugin SDK. We built a code editor on top of Dyte for the interviewees to code on during interviews which has proved to be excellent in terms of user experience.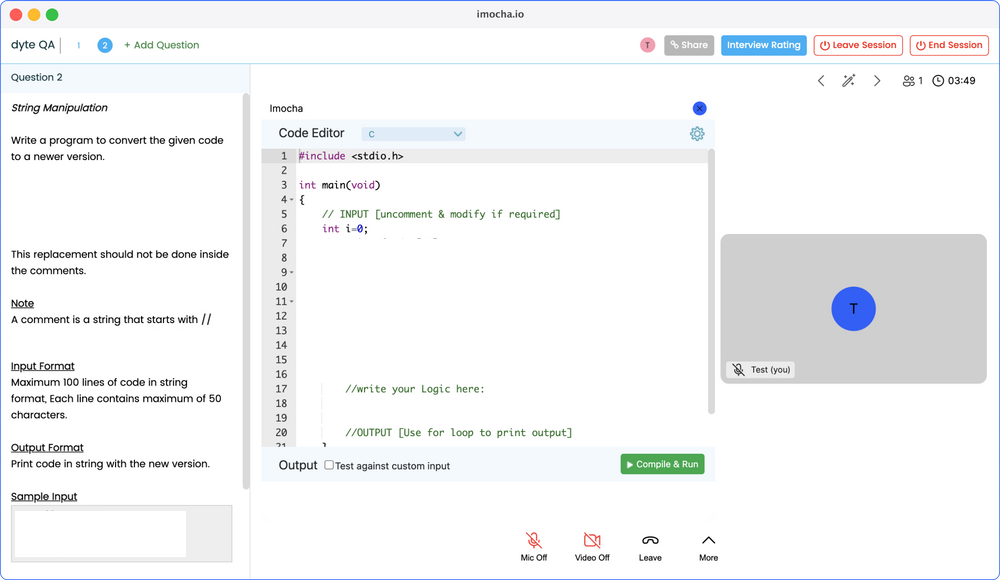 After internally testing this successfully, we decided to use Dyte for our second high-priority product vertical, Smart Video Proctoring Solution. It includes recording live videos of an interviewee taking the online test, which are then further processed. It required a solution that could dynamically scale to manage tens of thousands of sessions concurrently. Towards the end of August, we started building the proctoring solution powered by Dyte's web-core SDK. Dyte was excellent in terms of this use case, too; we could use raw video streams for running our algorithms on the fly as well as post-processing the videos. Apart from this, it also came with detailed, in-depth analytics.
It's a wrap!
When we started using Dyte, it was a relatively new start-up, we had our doubts about whether or not it would work for us, but we're glad that we made the switch! Using Dyte has reduced our development timeline and increased the pace of our go-to-market by almost 6 months. The support from both the development team and the founders has been outstanding—they've been quick to respond to all our feature requests and helped us in resolving the majority of our issues. We look forward to continuing to work with Dyte as we scale!

If you haven't heard of Dyte yet, go to https://dyte.io to learn how our SDKs and libraries are revolutionizing live video and voice calling experience. Don't just take our word for it; try it for yourself!  Dyte offers 10,000 free minutes every month to get you started quickly.

If you have any questions or want to chat with us, please get in touch with us through support or visit our developer community forum. Looking forward to it!