In today's technological world, developer experience is one of the most important determining factors for an industry's growth. The rate of development is heavily influenced by how quickly developers can consume a technology. The lack of appropriate tools and technologies is stifling technological advancement in the video and voice communication industry as well. Dyte recognizes this gap and is making strides to accelerate the growth in this field at an astonishing rate.
The Evolving Concept of DevX or DX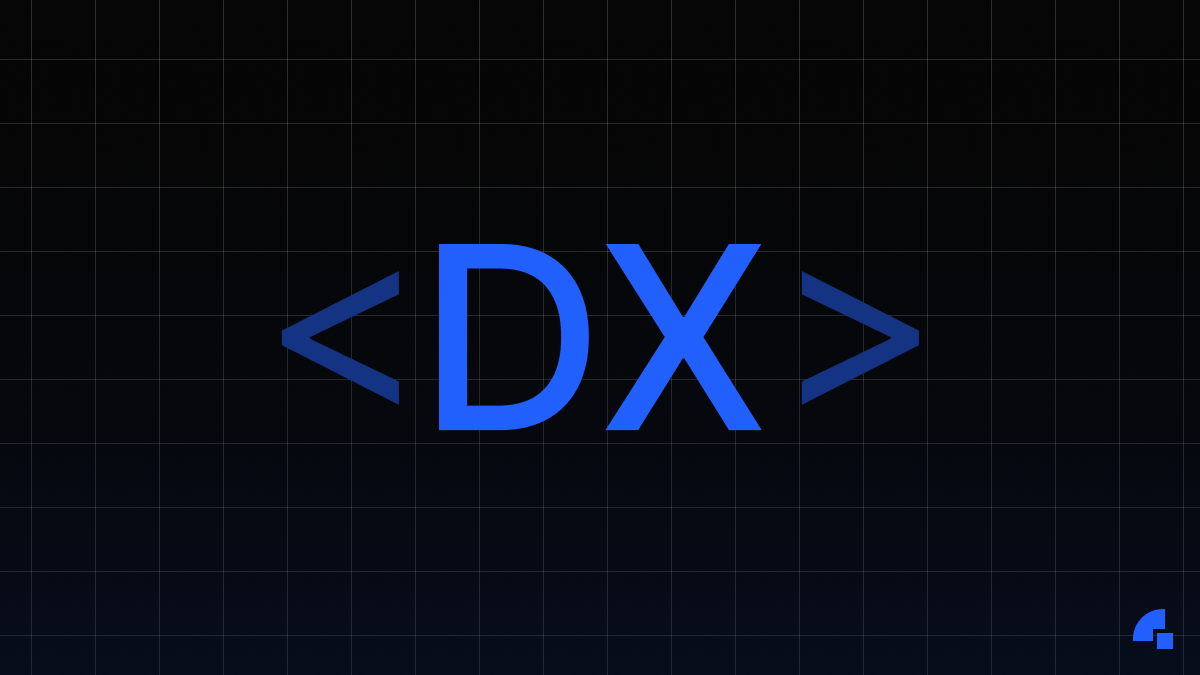 The way we order food, book a movie ticket, make a payment, communicate, and interact with one another has evolved significantly. Behind all these advancements and innovations, there is one common factor across: Software!
Everything that shapes our lives today is powered by software. There are approximately 30 million developers worldwide who work in these fields and contribute to making all of this possible.  It wouldn't be completely inaccurate to say that the pace at which we can grow in business and society is directly related to how efficiently these developers can work.  However, the pace and quality at which these developers can work is not at their best. The main hindrance is outdated tools and technologies.
It is important that we clear these bottlenecks for the developer community out there to expedite the pace at which the human population can progress or function.
Software developers are shaping and building the modern technological world. The primary focus of a Developer Experience (DevX or DX) is to decrease the time spent on maintenance and increase the time spent on building, development, and innovation.
Freeing Developer Bandwidth for Faster Innovation
During the pandemic, we saw how something as simple as having meetings can have a global impact on business and productivity. We probably did not realize the importance of features like virtual background, live translation, live transcription, live streaming, use of various plugins like Whiteboard, YouTube integration, and so on and so forth prior to the pandemic.
Everyone needs a video and audio platform to communicate effectively, whether they work in the health industry, an educational organization, or a software company. Millions and billions of people around the world use live video, audio, and chat on a daily basis to work, talk, learn, and so on.
Dyte's technology is making advancements in upping this game for the developers. Dyte provides a developer-friendly live video and audio SDK, with maximum control, minimum hassle, and various plugins to make your calls more productive, immersive, and collaborative. Dyte lets developers integrate branded, configurable, and programmable live audio & video with just a few lines of code.
Developer experiences are fundamentally important because they determine how much value your product delivers to its users. If you have an easy time using your platforms/SDKs/product/APIs then there's no reason why anyone wouldn't want to use it—they'll get real value out of it because it makes their lives easier!
Creating New Ways to Integrate, Brand, and Experience the Video and Audio
When a technology truly embeds itself in our daily lives, it begins to spawn a new language all its own. For example, video and audio conferencing.
'Jumping on a call' competed with 'you're on mute' for the title of the most-used phrase by those adjusting to pandemic-forced new ways of working from home at first :) Live Video Chat and Audio Experience Is Terrible. But It Doesn't Have to Be.
Fast forward two years, and we are not only completely at ease with video and audio conferencing, but we are also demanding more and more from it.
The most recent differentiator?
Probably the most important ones are 'Video and audio quality, integrations, and a unified experience.'
And, like everything technological, if organizations fail to keep up with the latest advancements in the communication industry, they risk missing a trick.
You don't have to worry a dime there! Simply consider Dyte, and we'll take care of just about everything. Whether you're on Windows or Mac, using web or mobile applications, using React, iOS, Android, or Flutter, we support all.
With Dyte you can create your own branded, configurable, and programmable solutions with minimum coding effort. We provide out-of-the-box support for various plugins such as Whiteboard, YouTube, Miro, and many more. We have chat, polls, quizzes, breakout rooms, and a media player built in for you. Dyte is also proud to support single-line integration for a variety of advanced features such as virtual background, live transcription, and translation.
We also understand how important branding can be for your company. For example, suppose you're an educational institution that holds live classes for thousands of students all over the world or a hospital that provides online consultation to patients. Branding is unquestionably the key to your success. Dyte offers a fully customizable UI kit from which you can create your own branding. For example, change the logo.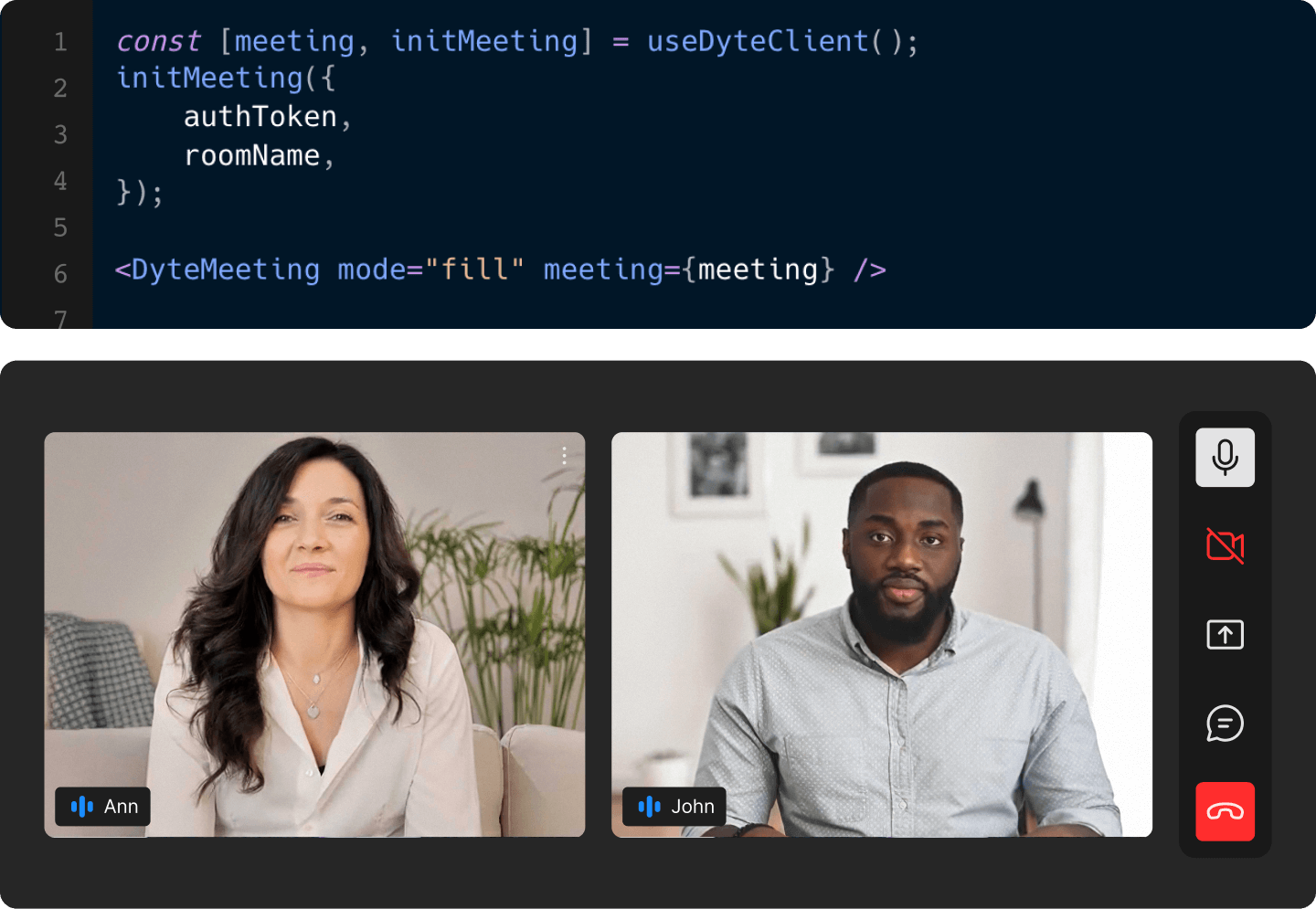 Making Real-Time Communication a Reality with SDKs
Dyte offers multiple SDKs for real-time communication that allow you to integrate high-quality audio/video calls into your web and mobile applications. These are typically used with our UI Kit, but you can easily create your own UI as well.
Dyte is built primarily on the WebRTC protocol, with features and optimizations added on top. Dyte's mission is to make this technology accessible to developers. In keeping with this mission, we offer several implementations of Dyte's real-time communications services, allowing you to integrate a meeting with a few lines of code without prior knowledge of media, streaming, or RTC.
The developer has control over the capabilities offered in addition to the basic communication service. You can choose which features you want and how much customization you want. Pick any of the supported platforms that suit your needs:
Mobile: Flutter, Kotlin, Swift, React Native
Web: React JS, Angular, Vue, Javascript
Desktop: Flutter
We'd love to see you stop by our docs page to get a sneak peek at this.
Learning and Adopting Technological Advancement Everyday
The seemingly endless virtual meetings (remote work, etc.) are rapidly changing social norms and creating new interest in the technology that connects us. While video and audio conference platforms have been available for years, they were never intended to replace in-person interaction.
We've been constantly working at Dyte to make video and audio communication as natural as possible.
The Future of the Media Experience: Improving Live Video & Audio Call Experience, Efficiency, and Engagement
Dyte is founded by passionate developers with an unwavering commitment to improving the way audio and video communication is used in the industry.
The Dyte Advantage
Dyte is distinguished by a number of features. To improve readability and scannability, we've categorized the features into several categories:
Wide Range of SDKs/Platform Support: Dyte is available on multiple platforms, including Web, iOS, Flutter, Android, React Native, and many more. For more information on different supported SDKs and platforms, see Dyte documentation.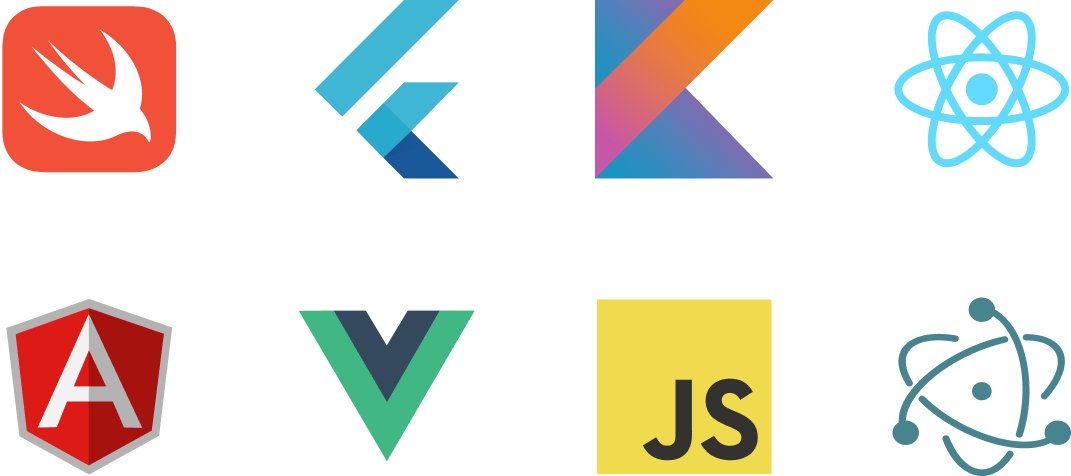 Support for Multiple Plugins: Plugins are one-click add-ons to add immersive experiences to your video call. A few examples below:
Youtube: Play videos locally in Sync for everyone instead of a choppy screen-share.
DocSync: Open PDFs & PPTs that load for everyone and are in sync thus achieving crystal clarity.
Remote Browser: Browse the web together on a server-hosted browser.
And a Plugin SDK for you to build your own interactive in-call apps.

Consistent & Reliable Media Experience: We at Dyte aim to provide a consistent and reliable video/audio experience to all of our users. Dyte supports a variety of browsers and devices to provide that seamless experience. Interested to know how we achieve that at Dyte? Read through this blog to understand this in detail.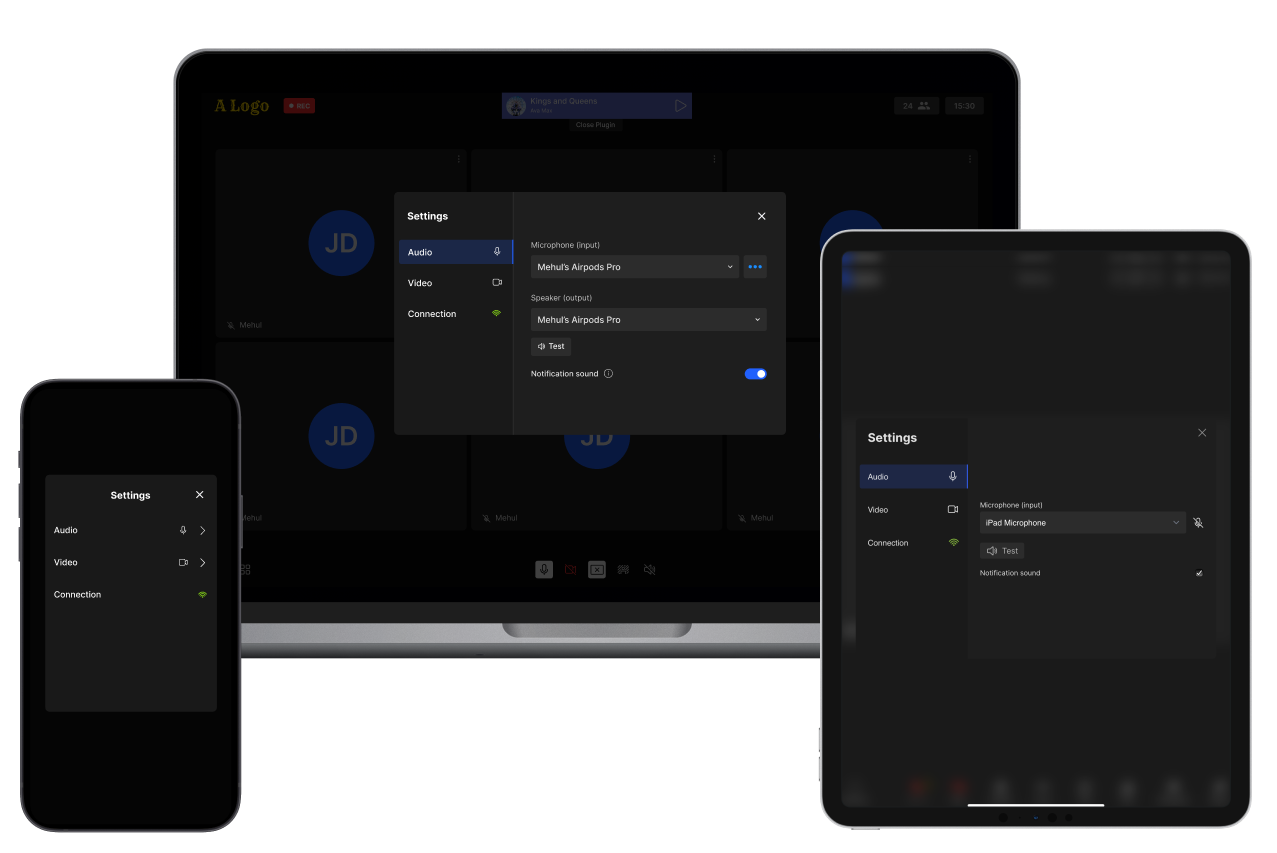 Custom Filters: With Dyte's Stream API, you can enable on-the-fly changes for both audio & video streams. To fully understand this, go through Add Exciting Custom Filters to Video Calls with Dyte Video SDK 2.0.

Whiteboard: Collaborative whiteboard to deliver an immersive virtual classroom experience.
Teachers can grant view-only or write permissions on the go.
Whiteboard data can be saved and exported after class.
The recording includes the Whiteboard view as shown in a call to everyone.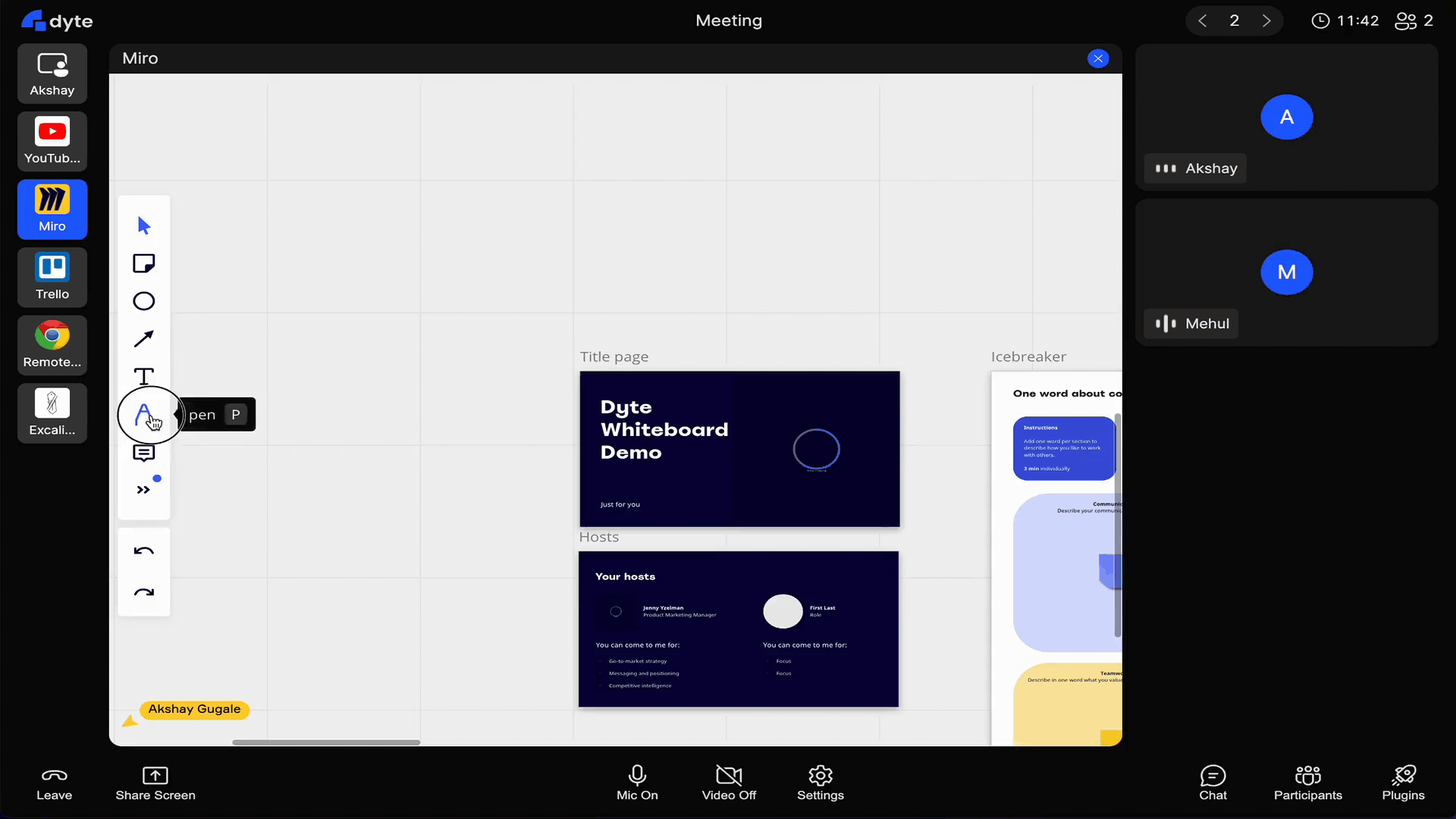 Chat & Polls: Built-in chat & polls to increase engagement.
Hand raise to facilitate students to ask for help.
Private & group chat support.
Rich chat support - share images, files, and emojis via chat.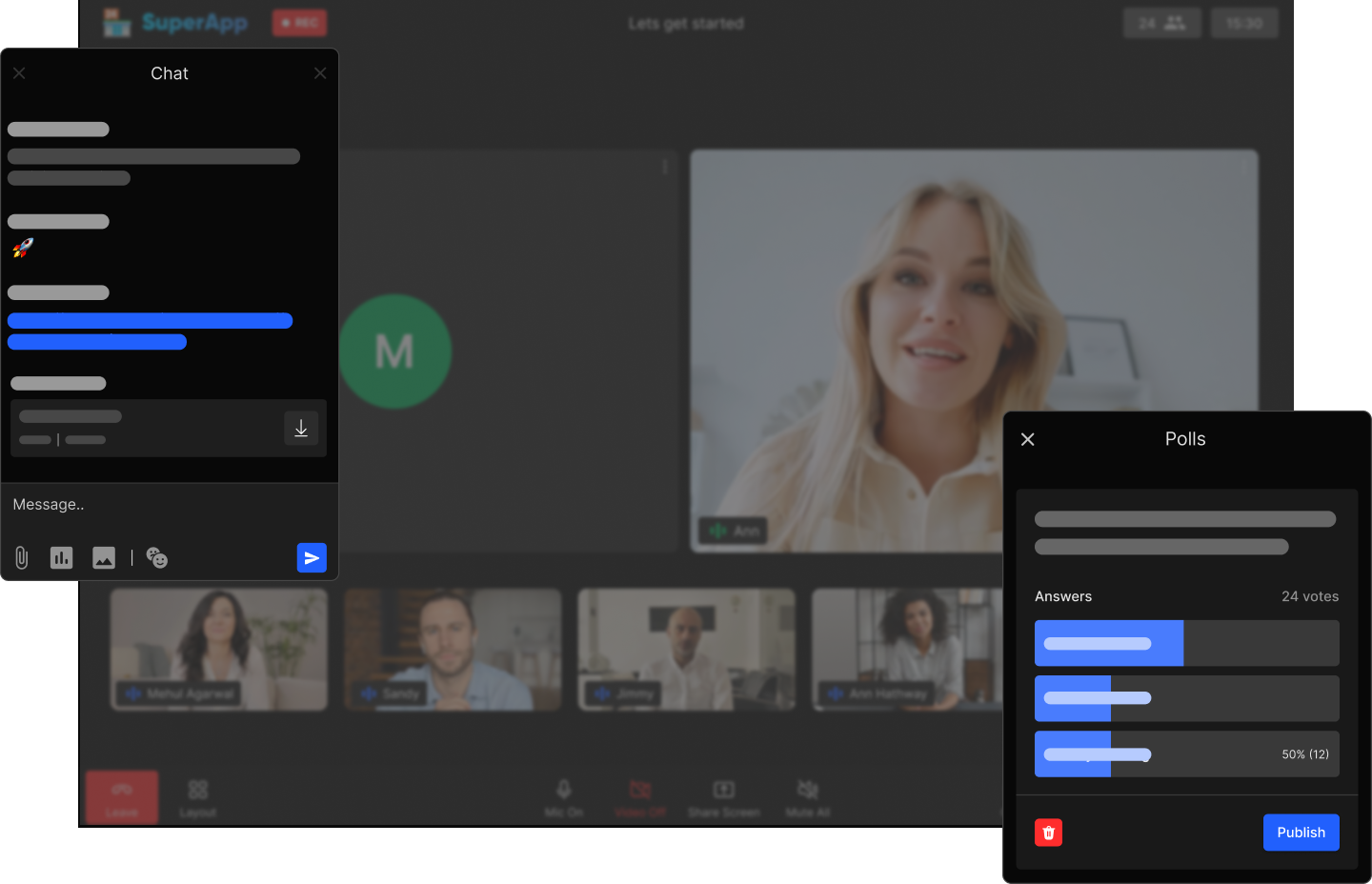 Quizzes: Leverage the Quiz plugin to facilitate live quizzes within the call.
Breakout Rooms: Interact and conduct better discussions, doubt solving, and other knowledge-sharing activities by dividing participants into smaller groups using our breakout rooms.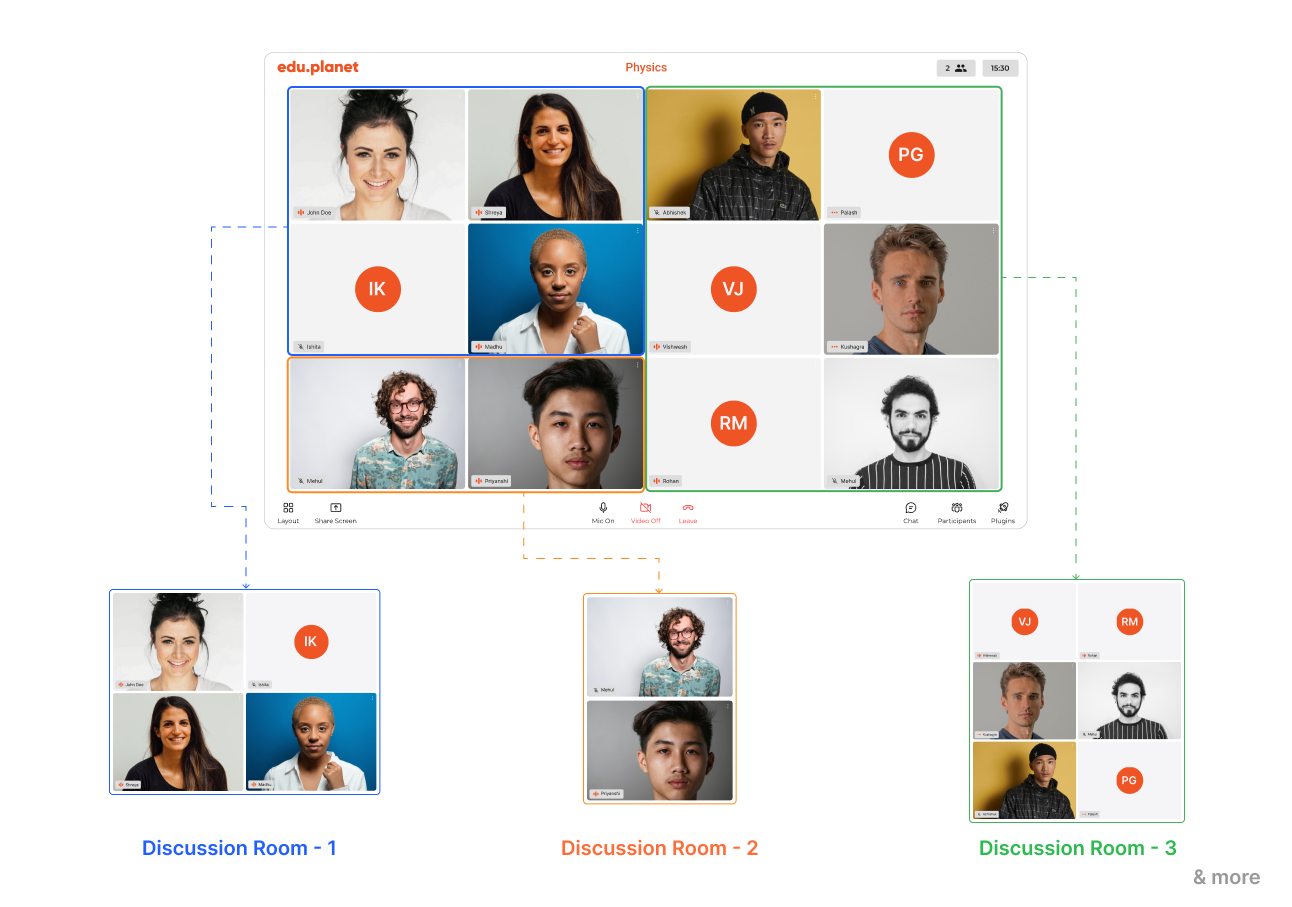 Live Stream: Add Low-latency HLS streaming within your platform for large-scale events, sessions, etc. Live streaming using RTMP out to YouTube, LinkedIn, Meta (Facebook), and many more.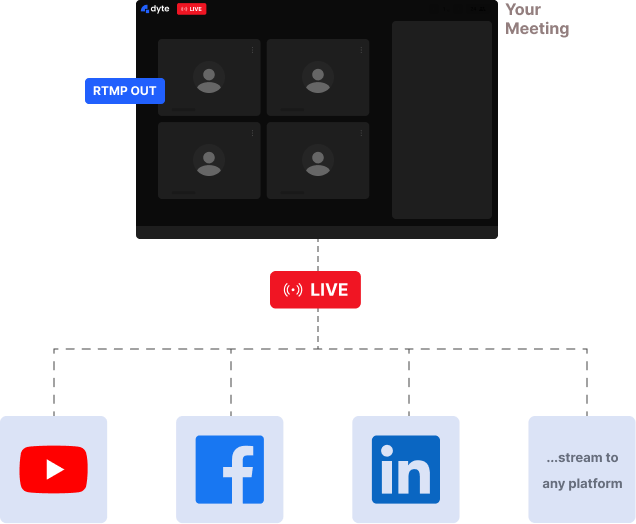 Virtual Background: The Dyte background manager allows changing the background of the video feed of meeting participants. These backgrounds are useful when you don't want to reveal or show the actual setting. Interested to learn more? Read about Dyte Video Background Manager here!
Live Transcription and Translation: Dyte provides an add-on that integrates Google Speech to Text with Dyte. This allows the speaker to speak in a language of his or her choice while translating it to others in their native languages.symbl.ai allows you to generate not just the transcriptions but also offers conversation analytics, conversation topics, and contextual insights, customer tracker, and summarization.
We have created a wrapper plugin that integrates Dyte with symbl.ai thus avoiding the hassle for our clients. You can read Supercharge Dyte Calls using Media Add-Ons & Middlewares blog to see the integration code for the transcription and translation.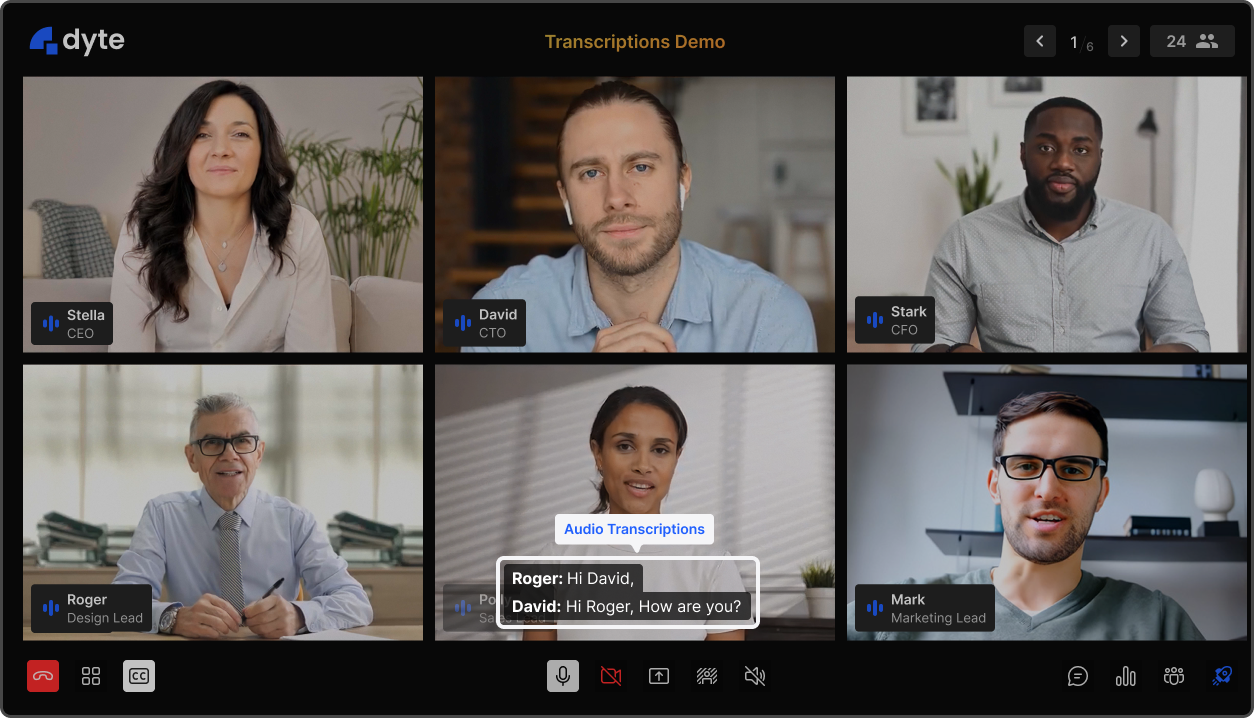 Dedicated Support: Dyte values its customers and provides 24×7 support directly via Slack or On Call.
How Dyte Wins on Customization?
Tired of using non-customizable meeting UI SDKs that aren't tailored to your specific requirements? Dyte comes with a super-powered UI kit that allows you to beautify and customize your video and audio calls.
We recommend that you read through "Customize Your Video & Audio Calls With Dyte's new UI Kit SDK" blog to get a sense of the possibilities that Dyte can offer in terms of UI customization.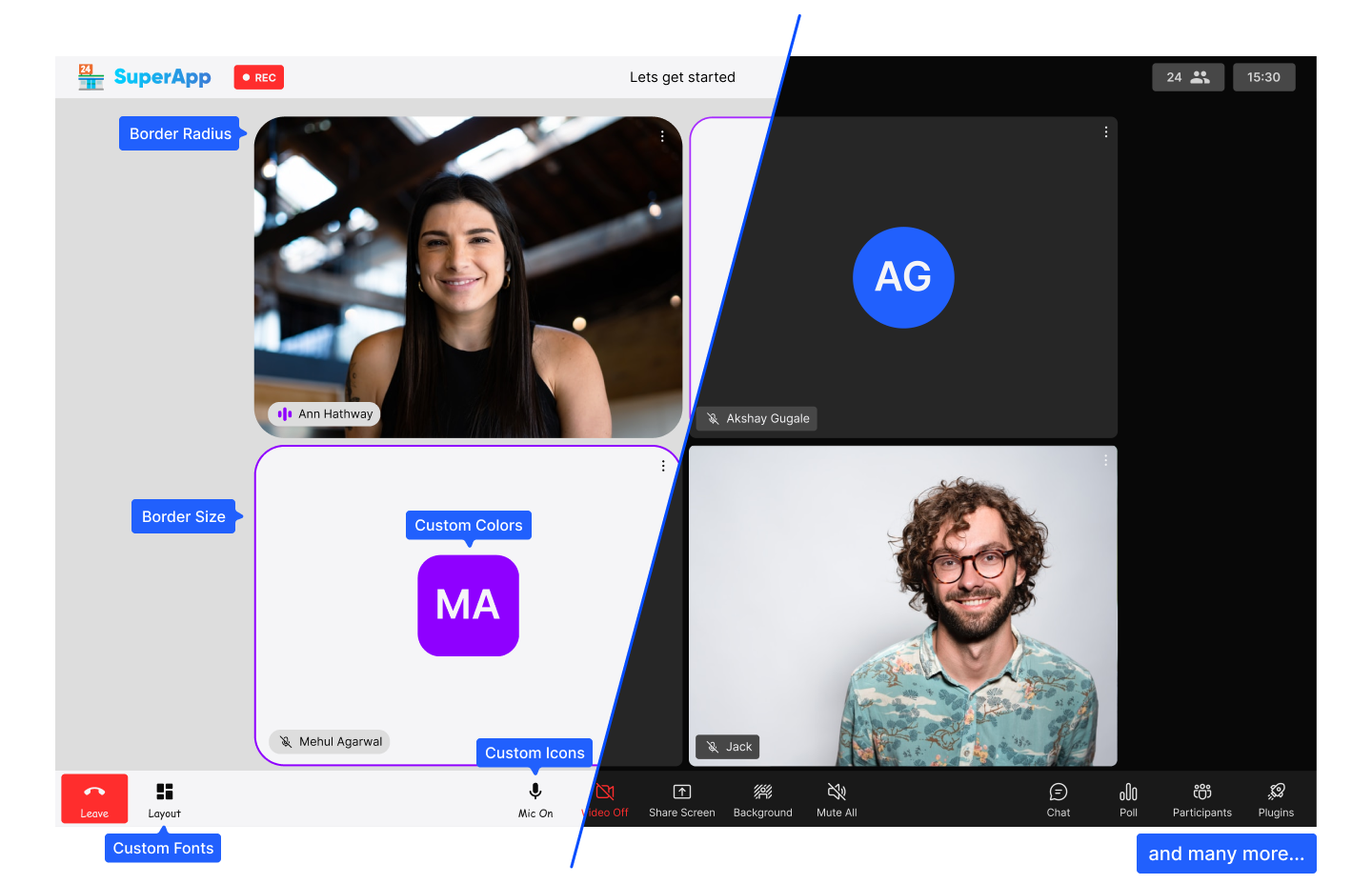 Conclusion
We're confident that you'd agree by now that Dyte considers developer experience to be one of the most important factors in the success of the video and audio communication industry. A good developer experience can make or break a company's perception among users/customers/clients. A poor developer experience can lead to missed opportunities, wasted time and money, or even cancellation.
Interested to explore what's under the hood of Dyte? Try for free and read our documentation to understand its offerings. Hope to see you using Dyte platform to rock your meetings soon!
#Dyte #Video SDKs #Audio SDKs #Video and Audio Communication #Real-time Communication